Header
Peter Christian
Peter Christian is a Gentleman's Outfitter, specialising in classic, well-tailored men's clothing based in the beautifully picturesque South Downs.
Key Points
Very customisable and scalable eCommerce site
No updates or platform support concerns
Platform support / backup / security
"We really appreciate the fact you guys put a lot of consideration into our business and know everyone – it's a great asset to us"
StepBoxesGrid
US site has seen a 70.97% increase in mobile conversion rate and a 57.95% increase in desktop conversion rate.
Record sales were achieved on the Black Friday and Cyber Monday 2021 weekend.
In November 2021, post-launch, the UK site was 27.61% up YOY and the US site was up 111.29%.
FlexibleTextBlockImageBlock
5874 began with a discovery process that takes a deep dive into the client's current site and structure.  The discovery helps both parties gain a deeper understanding of the project details, including the current challenges, competitor analysis, project goals and potential technology solutions. The outcome of discovery presents a full solution design of all the functional and non-functional requirements, and details including costs and timescales.
The design phase of this project was complex and incredibly in-depth. It was of great importance to the client that their brand identity was protected and translated into their new site. Keeping a consistent theme across the brand experience is important for building trust, recognition and familiarity. We worked with the client to really understand their brand's core values and how these could be reflected in the store's design. This included creating brand personas in order to craft a user experience that would match what they were looking for. 
Recognising that their customers largely comprise of over 50s, particular attention was given to readability, visibility and accessibility:
Link and button text is actionable and descriptive

Links are supported by icons where appropriate

Typography uses clear and readable fonts with high contrast for visibility

Font size has a general baseline of 16 pixels

Images are large and high quality

Interactions provide visual feedback
Elements already present in the print catalogue and social profiles were also developed as part of the store theme.  The store was completely designed with the customer's journey in mind. As a brand that prides itself on quality and treating customers well, the store design reflects this in its usability and in its character.
Initially, there was an issue with the child SKU limit being too small. 5874 solved this by splitting out the colour variant products as individual products so the figure was reduced. Peter Christian also wanted to show colour variants on the Product Display Page as one product, but on the category page as separate products. This was solved thanks to BigCommerce's open APIs and open architecture.
Magento to BigCommerce
The move to BigCommerce was an easy decision. Peter Christian were using an unstable, archaic Magento store that had reached end of life and it was time to move to a more robust, scalable solution that allowed for growth and stability. It was evident early on in the discovery phase that BigCommerce would be the most cost-effective and viable solution due to its open architecture, security and automatic updates.
BigCommerce's secure, high-capacity servers have an average uptime of more than 99.99%, which means that the likelihood of a store going down for more than a few minutes per year is extremely small. For Peter Christian, providing a great user experience is essential to the brand's values and is something the team prides themselves on. Being confident in the platform's ability to be able to withstand high traffic during peak periods and provide a secure base for their customers to shop, was a persuasive factor in selecting the platform. 
With a desire to create an online retail experience completely unique to the brand, Peter Christian also needed the ability to customise various elements. The BigCommerce API allows for complete flexibility, which means 5874 were able to create a custom product bundler app, as well as introducing various integrations into the Peter Christian tech stack. 
The custom product bundler app enables Peter Christian to sell 'bundles' from one product display page, e.g suits: choose a jacket, trouser, waistcoat etc, all in a choice of sizes. This is a desirable functionality due to the nature of the site and its product offering.The agile working environment provided by BigCommerce was exactly what was needed to create a store that reflected what Peter Christian is all about – treating customers well. The nature of this open environment meant that we could provide Peter Christian with the bespoke elements they required to create a user experience unique to them and their customers.
Peter Christian also had specific requirements around GDPR, opt-ins and data collection, which were solved by using the 5874 custom checkout and BigCommerce's open API and architecture.  Mini BC was also integrated in order to enable 3rd party card vaulting, cascading stock levels, and pre-order stock information.
Peter Christian had a prior Klevu integration, which offered them AI-driven site search and improved functionality. 5874 also implemented the WordPress plugin so that the client can post blogs and content with branded and customised features.
5874 have launched both Peter Christian's UK and US stores on BigCommerce. We have also been appointed to offer SEO marketing support for Peter Christian on a month by month basis. 
Customisable and scalable eCommerce site
No updates or platform support concerns
Platform support / backup / security
FlexibleBeforeAfter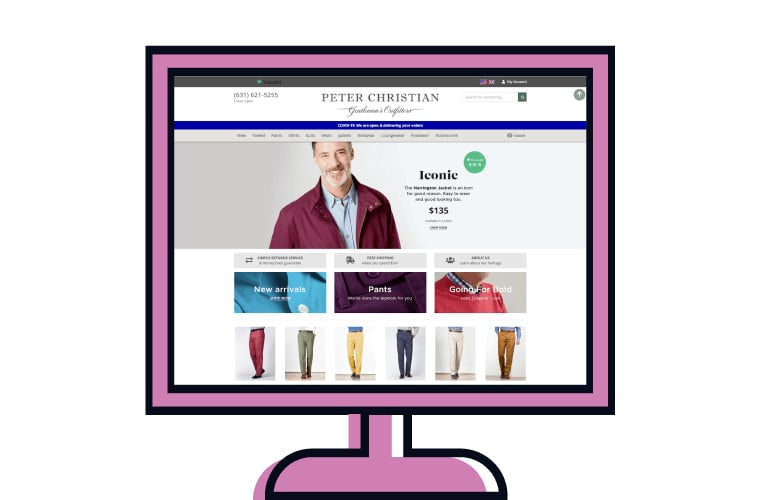 FlexibleFullWidthContent
Let's build something great together.
Project Highlight
5874 Commerce were presented with the User Experience and Design Award at the BigCommerce EMEA Partner Awards 2021 for the work on Peter Christian's new site.
Head over to the Peter Christian website for more information.
FlexibleTextCardsGridIllustration
Give us a buzz or drop us a line. Let's work together.