Chris
Creative Director
Connect with Chris
What I Do
As our Creative Director, Chris works across multiple print and design projects using his passion for storytelling to create fun, modern brand designs. With a strong background in Art & Design, Chris loves exploring creative ideas on paper before moving across to digital.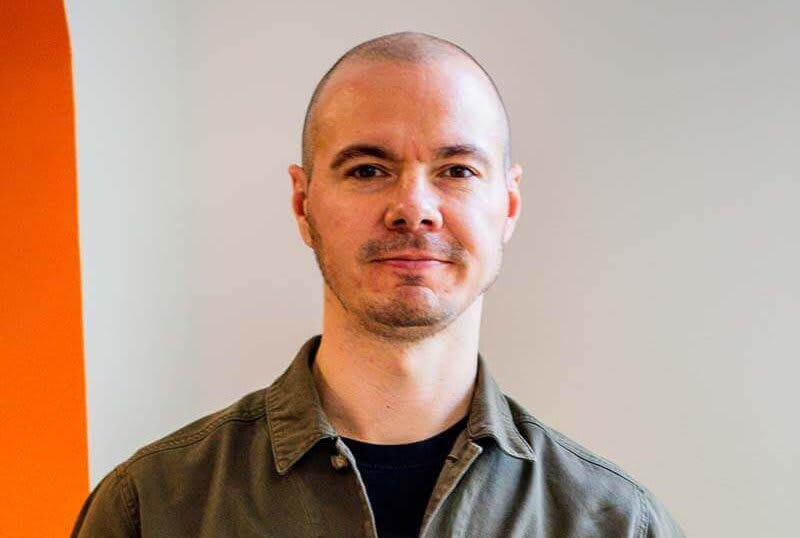 A Little More.
What made you apply for a job with 5874?
I left the role prior to joining 58 because I felt I wasn't being valued or recognised for my work and commitment. As such, finding somewhere that supported its team and provided opportunities for career development was a key in my decision process. Reading through the website content, I also felt aligned with the 58 culture and in particular their flexibility towards working parents and work/life balance.
What's your favourite thing about working here?
Being challenged. Agency work naturally throws up fresh challenges on a regular basis however, at 58 we have a reputation for taking on the difficult projects and for me, that's what makes things interesting. The challenge doesn't stop with client work either, being a part of the leadership team, there's the challenge to make 58 a great place to work for and with, which is something I take pride in and respect that responsibility.
In your role, what do you most enjoy and what area do you feel you excel in?
I'm relatively new to the world of leadership and am only just starting my journey in the role. It's a journey that sees me moving further away from taking an active role in day-to-day design activity and more into guiding the process and successes of the team. I love the journey I'm on, but more than that, when the team succeeds it gives me a real buzz and excitement that I know is only going to increase over time. As I designer, one of my strong points was giving a shit about everything I produced and worked on. That mentality has crossed over to leadership, where I care about the team and the work we produce just as much.
What would you say is your favourite project you've worked on?
It's probably one of the projects I'm working on at the moment where we're developing the brand strategy and customer experience from the ground up which is exciting, challenging and a lot of fun!
Where do you see yourself career-wise in 5 years?
I never used to see myself as ambitious, but looking back over the last few years, it's clear I'm driven to push my career forwards. Over the coming years, rather than a change of role or job title, I see myself supporting my team and growing it in order to deliver projects and results I could never hope to achieve on my own. Growing my skills and experience in leadership, management, mentorship and business are where I see my career development growing in the coming years.
Who or what inspires you?
My wife, Katy has always inspired me and served as my long suffering sounding board for my own career. She's pushed me when I've needed it and offered support and guidance along the way.
Got any pets?
We have two cats, Gizmo a tortoise shell and Beau a black and white. We've had both since they were kittens, Gizmo from a friend who's girlfriend was unfortunately allergic and Beau who was from a cat shelter. Gizmo is one of the most chilled out cats ever while Beau is basically feral. Somewhere between the two we have a half decent cat!
Tell us a little bit about yourself / family / hobbies
I grew up in the Midlands but lived in Mid-Wales for most of my teens and twenties. My wife and I are back in the Midlands again with our full-of-beans four year-old, Kit. We live close to my brother and Kit's Nanny and Grandad which is great (especially for babysitting duties!). I try and read everyday, mostly sci-fi and fantasy series. I've been bringing Kit up-to-speed on the world of super heroes, Lego and Mario Kart which is exactly where I saw myself as a parent. Historically I've enjoyed running and training for long-distance races, which is something I'm keen to get back into.
What's the best advice you've ever heard/been given?
I'm an introvert at heart and often struggle in unfamiliar social gatherings. Something which has helped relieve the pressure I've felt in these environments in the past, is realising I'm not responsible for 100% of the conversation. The pressure to keep conversation moving often kept me from engaging at all. Shifting the weight to 50% or less, gave me the space mentally to take a step back, become a better listener and in turn have better conversations with people.
FlexibleTextCardsGridIllustration
We believe in long-term partnerships built on trust and honesty. From this mutual understanding we'll drive purposeful change, delivering experiences that allow your business to flourish.
FlexibleTextCardsGridIllustration
Give us a buzz or drop us a line. Let's work together.