James
Project Director
Connect with James
What I Do
James focuses on integrating the latest digital applications for our clients.  With a strong skillset in project management and 11+ years' experience in publishing and media, James is our logistics guy, and is ready to spearhead any project that requires an analytical brain.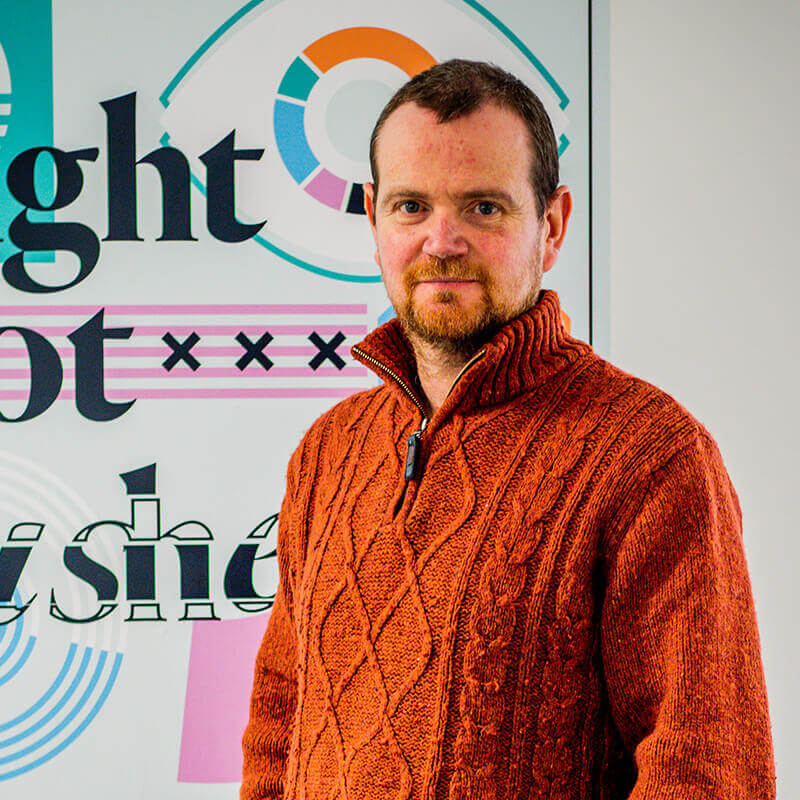 A Little More.
What made you apply for a job with 5874?
As an ex-customer of 5874, I knew Rupert and Rich, what they would be like to work with, and what the company goals were. Why wouldn't I?!
What's your favourite thing about working here?
Feeling appreciated, and sense of achievement. Everyone tries their best, and has equal commitment. There are no cliques, no "us and them". Also there are plenty of office snacks. The flexible working hours are invaluable to me as well. I became a dad in early 2020 (in lockdown) so multiple new challenges for me hit all at once. I now work slightly compressed hours on a four day week, and so my daughter gets my time every Friday. This is something I always wanted to do, and I'm really grateful for.
In your role, what do you most enjoy and what area do you feel you excel in?
The satisfaction of a project going live, and helping clients achieve their goals.
What would you say is your favourite project you've worked on?
Carluccio's and Loacker - they were both our biggest projects when we did the initial builds. Also the next project in the pipe, as it's likely to be more advanced than the last.
Where do you see yourself career-wise in 5 years?
Hopefully running a bigger team right here at 58
Who or what inspires you?
Other people's successes
Got any pets?
Billie - our mini (working) Labrador. She's 12, though she doesn't know it, she still thinks she's a puppy. She's loving being a big sister.
Tell us a little bit about yourself / family / hobbies
I live with my wife, daughter and Billie in South Warwickshire. Together we enjoy country walks, TV boxed sets, farm parks and good food. Along with my sister, I spent most of my youth as a competitive target archer.
FlexibleTextCardsGridIllustration
We believe in long-term partnerships built on trust and honesty. From this mutual understanding we'll drive purposeful change, delivering experiences that allow your business to flourish.
FlexibleTextCardsGridIllustration
Give us a buzz or drop us a line. Let's work together.