Tomorrow, Together: Celebrating Success and Planning the Road Ahead for 5874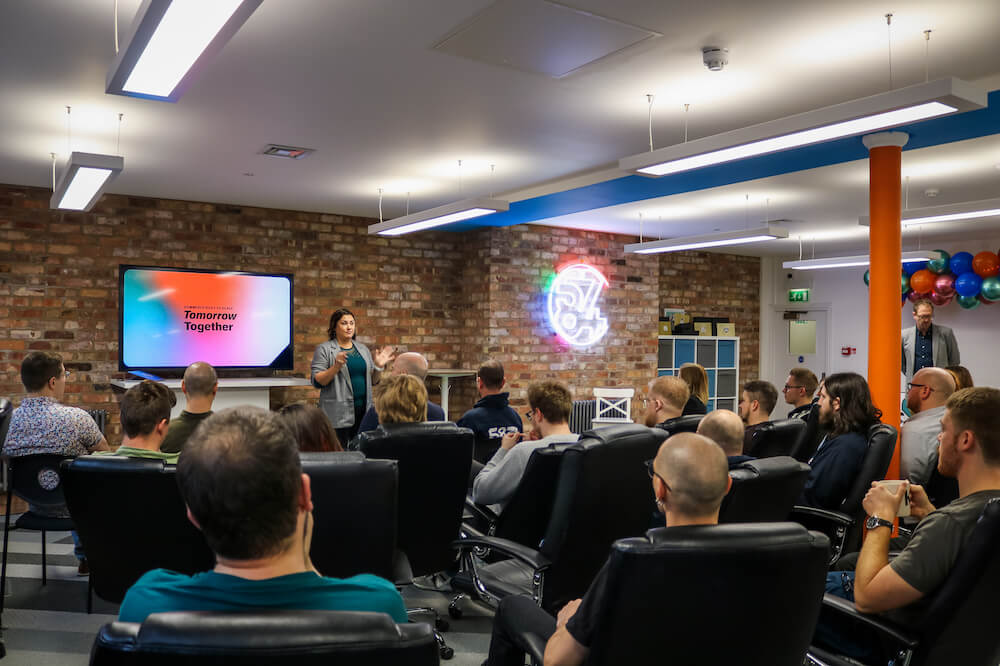 Once a year, the whole 5874 team comes together in person for a big agency update and a day of fun, food and celebration. 
This year, we held the biggest (and best!) Team Day yet, with a focus on 5874's exciting future and the amazing team members that have made the past year great. The day consisted of presentations, a roundtable Q&A session with 5874's senior leadership team, a roles and responsibilities workshop that gave us all a greater appreciation of how integral each department is to the agency, and of course our annual Team Awards where we honour the amazing individuals that are central to 5874's success. It also wouldn't be a day at 5874 without lots of snacks, so the team were treated to breakfast pastries, a buffet lunch and an afternoon tea complete with cakes and cookies (and maybe a beer or two)! 
Team Day is also a great way of getting the whole team together in person. Although we love our hybrid and flexible working environment, we know there's nothing quite like collaborating in person. There were also breaks throughout the day for networking, which was a great opportunity for team members to chat with people from different departments and backgrounds. 
A theme of the day was the triple bottom line, which is made up of the three P's: People, Planet and Prosperity. The triple bottom line is a business framework that places just as much importance on social and environmental concerns as it does on financial success. This concept brings together three pillars of 5874 and embodies its values of Honesty, Care and Excellence which our employees showcase every day. 
Huge thanks to Liz Parr, Michelle Rooker and Curtis O'Shea for organising such an incredible day!
We pride ourselves on being a diverse and inclusive agency that values each individual member of the team, and Team Day is all about nurturing and celebrating the group of talented, kind and hardworking people that make up 5874 Commerce. If you're interested in becoming a part of the team, take a look at our careers page to see our current vacancies or contact us here.